Councillor Charles Adje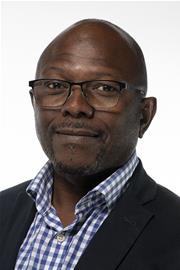 Councillor Charles Adje
Title: Cabinet Member for Finance and Strategic Regeneration
Party: Labour
Ward: White Hart Lane
Other councillors representing this Ward:
More information about this councillor
Surgery details
Update 18/03/2020 - please note, for the foreseeable future, Councillor Charles Adje will be holding his surgery through telephone and email only. If you wish to contact the Councillor on the dates and times shown below, then please call – 07870 157 924 or email - charles.adje@haringey.gov.uk

We apologise for any inconvenience caused.

4th Friday of each month, 6pm-7pm
Residents' Meeting Room, Larkspur Close
(Off Fryatt Road), N17

Councillors Adje, Bull and Stennett are happy to visit residents please call 020 8352 1261 for details.
Contact information
Correspondence address:
River Park House
225 High Road
Wood Green
London
N22 8HQ
Bus. phone: 020 8489 5788 (office)
Email: charles.adje@haringey.gov.uk
Mobile: 07870 157 924
Councillor's surgery map : g.co/maps/d8thx
Haringey is not responsible for the content of any external link
Responsibilities
Committee appointments
Term of Office
Additional Information
I was elected to Haringey Council in Tottenham's White Hart Lane Ward in 1998. At Haringey, I held the portfolios of Executive Member for Resources from 2000 to 2001, Executive Member for Finance & Support Services from 2002 to 2003, Executive Member for Finance 2003-2004 and Cabinet Member for Resources. I was elected Leader of the Council in May 2004 and subsequently re-elected in May 2005.
I have chaired the Personnel Sub-Committee and was a member of the Haringey Policy & Strategy Committee.
I was the UK's first Council Leader of Nigerian descent.
I have a professional background in human resources management and currently work as a Human Resources Team Manager with the London Fire and Emergency Planning Authority.
I am married with one son.