Councillor Sheila Peacock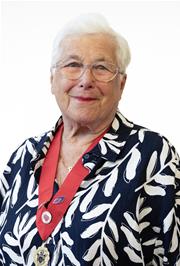 Party: Labour
Ward: Northumberland Park
Other Councillors representing this Ward:
More information about this Councillor
Surgery details
2nd and 3rd Saturday of month,
10.00 – 11.00 am
Coombes Croft Library,
High Road, N17 8AG
Councillor's surgery map (external link)
The Northumberland Park Ward Councillors also hold monthly coffee mornings within the ward.
For further details contact Councillor Peacock.
Contact information
Correspondence Address:
River Park House
225 High Road
Wood Green
London
N22 8HQ
Phone: 020 8808 9160
Email: sheila.peacock@haringey.gov.uk
Responsibilities
Committee appointments
Term of office
Appointments to outside bodies
Additional Information
One of my main interests are the fine old buildings in Tottenham High Road, because of this I managed to re-instate the Haringey Buildings Trust Preservation Committee, of which I am now Chair. I have built a web site of these houses which can be found at www.historic-tottenham.co.uk. I have many hits on this site from all round the world.
I am the Chair of Supported Housing Forums and the Older People's Champion.
I am Chair of the Holocaust Committee, which hosts four events around Holocaust Day on January 27th.
I am Chair of International Women's Day, which holds an annual event on the nearest Saturday to March 8th, which is International Women's Day.
GOVERNING BODIES
I am Vice Chair of the Pembury House centre of Childhood and Children's Centre
I am a governor of St Paul's and All Hallows Primary School
I am Chair of the Park Lane Nursery Local Planning Group