Councillor Gina Adamou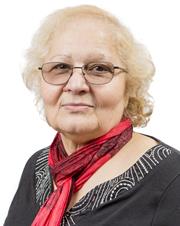 Councillor Gina Adamou
Party: Labour
Ward: Harringay
Other councillors representing this Ward:
More information about this councillor
Surgery details
2nd and 4th Saturday of each month
11am - 1pm
Turnpike Lane Citizens Advice Bureau,
14a Willoughby Road, N8
(Please see link to map below)
Contact information
Correspondence address:
River Park House
225 High Road
Wood Green
London
N22 8HQ
Email: gina.adamou@haringey.gov.uk
Councillor's surgery map : g.co/maps/cr3f9
Haringey is not responsible for the content of any external link
Committee appointments
Term of office
Additional Information
I am Councillor Gina Adamou and I was the Mayor of Haringey for the municipal year 2006 – 7. I took over the chains of office from Cllr Eddie Griffith at the annual meeting of the council on 22 May 2006, and am the first woman councillor of Cypriot origin to hold the mayoralty.
I came to the UK from Cyprus in 1960 and have lived in Haringey for over 40 years and in Harringay ward since 1972. I have represented Harringay Ward on the council since 1990.
I have previously served as Social Services Committee chair, and chaired Scrutiny panels on Recycling and Waste Minimisation and Social Services.
I am the Chair of St Ann's and Harringay Area Assembly, I am also chairing local working groups for HMOs and the Falkland/ Fairfax open space. I am a member of the Safer Neighborhood Police Panel, Finfuture and a member of the Haringey Cypriot Centre committee.
I am married with three grown-up children and four grandchildren, all at local schools.
I am always working for all the people of Haringey. Wherever people live, and whatever their background, they are citizens of Haringey, and my role is to build on our fantastic history of diverse communities working together for a better borough.